The card this week: Six of Clubs which means the "story" this week is not-a-story, it's an essay:
Identities in Motion -- My Mythomanias
by Julia Schoch; translated from the German by Katy Derbyshire
How do we remember when the landscapes of childhood are gone? Schoch grew up in a town modernized in the Communist era and the made obsolete by the 1989 revolution.
"They say the only things that count in life are the things we remember. That seems to be all the more important when there is no longer any evidence of the past.
I no longer have any evidence of my past."
From
Literature Across Frontiers (LAF)
"a European Platform for Literary Exchange, Translation and Policy Debate."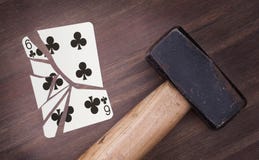 Card is a stock image from
dreamstime
It seems to go with the deterioration of the town (both the original and the new) and the hammer suggests the politics involved.
other essays online...and slow reading
Dorthe Nors on the best Contemporary Scandinavian Literature
The Danish author discusses Scandinavian Lit in general and specific authors: Naja Marie Aidt, Yahya Hassan, Karolina Ramqvist, Lena Andersson, and Sjón.
All Writing is a Kind of Realism: In Conversation with Rodrigo Fresán, author of The Invented Part
A conversation between Fresán and Will Vanderhyden, translator of
The Invented Part
. I am slowly reading this novel as part of Chad Post's
Two Month Review
project.Chad has put together comments, podcasts, a Goodreads group, and more to help guide us through a difficult book. So far, we have read only the first 45 pages (which I loved).
I am also slow reading
The Magician of Vienna
by
Sergio Pitol because that is the way I read Pitol. See:
Pitol readings
and
More Pitol readings
Just because my card this week was for an essay doesn't mean I neglected short stories. In fact, I read some gems...
I read some of the O. Henry Prize Stories for 2017 that are available online:
Something for a Young Woman by Genevieve Plunkett
The Buddhist
by Alan Rossi
Protection by Paola Peroni
Night Garden by Shruti Swamy
Paddle to Canada by Heather Monley
Mercedes Benz by Martha Cooley
A Small Sacrifice for an Enormous Happiness
by Jai Chakrabarti
Two other stories I read online...
An Affair Before the Earthquake
by Samrat Upadhyay
Samrat Upadhyay is a Nepalese writer who writes in English. He teaches at Indiana University. This is from his collection of short stories,
Mad Country
.
The Great Disaster
by Alanna Schubach; with an introduction by Halimah Marcus
Young survivors of a community disaster play a Zombie game.
some novels from my shelves...
ME
by Tomoyuki Hoshino, Kenzaburō Ōe (Afterword), Charles De Wolf (Translation)
This started out as if it were going to be about telephone scams, but it turned into something else--a dystopian world of almost interchangeable ME's. Just when it seems to be headed in one direction, it makes a turn and is off somewhere else. A great read.
Advance review copy via LibraryThing
The Outlaw
by Jón Gnarr; Lytton Smith (Translation)
The third volume of Gnarr's childhood memoirs covers his teenage years. Misunderstood and misunderstanding, Gnarr ends up in a remote boarding school in the Westfjords district of Iceland (a Google search shows that the school is now a hotel). After leaving school he returns home to face so many problems--drugs, alcohol, medical treatments, family--that one wonders how he ever go it together.
From my subscription to Deep Vellum Books
'Round Midnight
by Laura McBride
It's always gratifying to see a second novel live up to the promise of the debut novel. This one does that without repeating the characters and plot of the first
(
We Are Called to Rise
). This one is also set in Las Vegas and, like the first, brings together a set of diverse characters and deals with immigrants and family problems. But the main characters are fresh and this one spans a long time period (about 1960-2010) as Vegas booms and busts. The four main characters are strong women in difficult circumstances. An absorbing read.
Advance review copy.