The novels I read (or finished) this week were fairly light reads, not so much in subject, but in presentation. There's nothing really light about WW1 infantry combat, poverty stricken Hondurans traveling north through Guatemala and Mexico, murder on a luxury yacht, but all of these were quick fictional reads. The biography of Isabella of Castile was comparatively heavy going.
Then it was time to play...
the story...The Punctiliousness Of Don Sebastian
(in
Orientations,
by William Somerset Maugham; on Gutenberg).
The narrator impulsively gets off a train in a remote Spanish town. There he encounters an impoverished nobleman who sells him an old manuscript. It is a family document revealing the origins of the family title. It is a tale of infidelity, fratricide, and greed.
An interesting coincidence to have a story about Spanish noblemen when I was in the middle of Isabella and Ferdinand's Spain, although the Maugham story was set in an earlier period.
The other stories in the collection are:
A Bad Example, De Amicitia, Faith, The Choice Of Amyntas,
and
Daisy
. Haven't read them yet, but I will.
the card...
Royalty, but English, not Spanish, and an earlier period than Isabella (Henry VIII is the 4 of Clubs)
Three of Diamonds: from
The British Museum
"Incomplete pack with 27of 52 playing cards depicting the kings and queens of England, including Oliver Cromwell; each monarch portrayed full length, with (except in the case of Cromwell) date of beginning of reign and length of reign; suit mark at top left..."
from my "owned-but-unread" shelf...
Tender: Stories
by
Sofia Samatar
Mind bending, mind expanding and, at times, mind exploding sci-fi, fantasy, and dystopian stories. It's writing like this that keeps me reading "outside my comfort zone."
This one's a keeper - I want to read many of them again.
Advance review copy through library Thing.
The Same Sky
by Amanda Eyre Ward
Two stories running concurrently in alternating chapters. It's no spoiler to say they eventually converge--that's pretty obvious. One is Alice: hardworking (she and her husband own a barbecue restaurant) and happily married except for infertility. The other is Carla: living in the slums of Honduras until she sees a way out and makes the hazardous journey north. This was a quick read, presenting many of the problems of contemporary life without going into great depth. Not a bad book, but it could have been so much more.
Advance review copy.
Time and Regret
by
M.K. Tod
In 1991 Grace, a recently divorced woman, finds a cryptic clue in a box of her late grandfather's WW1 diaries and mementos. She decides to travel to the battlefields of France and Belgium to find the meaning of his note. She finds, mystery, intrigue, romance, deceit, old crimes, and family secrets. A decent read.
Free copy through a blog win at Words and Peace.
Perdita
by Hilary Scharper
Maybe Marged Brice really is 134 years old...and maybe somebody else will see what she sees...I enjoyed the story, but ... it built up to a letdown...
And this cover (and the two immediately above above) blah..
From the library...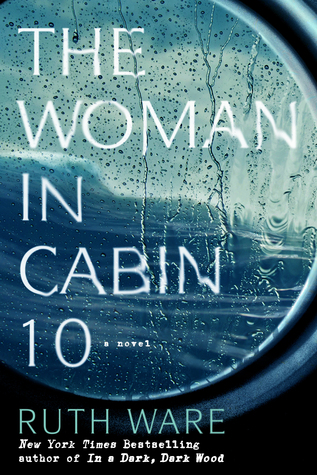 The Woman in Cabin 10
by Ruth Ware
The usual suspense stuff. Slightly (very) drunk woman witnesses (or thinks she witnesses) something happen--a scream and a splash. She tells her story but no one believes her. Was there ever a woman in what should have been a vacant cabin? It is a closed situation on a luxury cruise yacht. Who can she trust? etc. Not bad, not great. I had part of it figured out, no great effort required. Gave it a generous 3 Goodreads stars.
Note: Can I please read a novel in which the protagonist does
not
have vivid, easily interpreted expository dreams?
A Piece of the World
by
Christina Baker Kline (Kindle edition)
A novelized life of the invalid Christina Olson, the model in Andrew Wyeth's famous painting Christina's World.
While Christina's friendship with Wyeth and his wife is important to the story, it is Christina's relationships with others--friends, family, and especially her brother that shape her world. Excellent!
Isabella of Castile: Europe's First Great Queen
by Giles Tremlett
Comprehensive, readable biography.Times were terrible then and it is easy to draw parallels between the expulsion of the Jews and Moors from Spain and the plight of refugees in the world today. Do we ever get better?