More great reading, lots of translations, some humor, and finally finished (for now) one that I've been working on since last Spring.
The Art of Flight
; Pitol, Sergio; Enrique Vila-Matas (Introduction), George Henson (Translator)
I finally finished this. I started reading it last March, but it kept leading me to other books. To follow where it took me please see
Pitol Readings.
Caterva
; Filloy, Juan; Brendan Riley (Translator)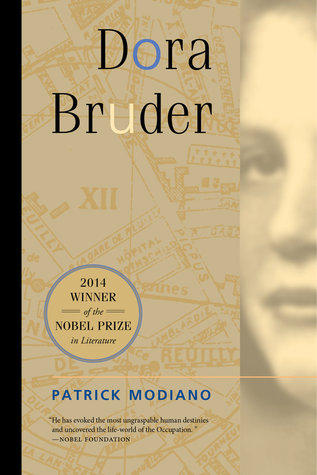 This is a fantastic book! What a shame that so little of Filloy's work is available in English. Library book.
Dora Bruder
; Modiano, Patrick; Joanna Kilmartin (Translator)
Modiano has a number of different translators, but his distinctive voice always comes through. Amazing. My copy.
So You Don't Get Lost in the Neighborhood
; Modiano, Patrick; Euan Cameron (Translator)
Another fine Modiano. This could stand alone, but I think it makes more sense if read after some of his other works. Library book.
Letter from Casablanca
;
Tabucchi, Antonio; Janice M. Thresher (Translator)
Somewhat puzzling short stories. Most of them deal with memories of and reactions to traumatic family tragedies. The puzzle is that the reader isn't told exactly what the tragedy was. It's left to the imagination so every reader (and every reading) can find a different answer.Library book, one I wish I owned.
This cover goes quite nicely with the title story.
The New Sorrows of Young W.
; Plenzdorf, Ulrich; Romy Fursland (Translator)
Maybe I would have liked this more if I were younger, or if I remembered
The Sorrows of Young Werther
which I read a thousand years ago, or if I liked
The Catcher in the Rye
. It's well written, a cult classic in Europe, and I did like it but it doesn't inspire me to re-read forgotten books. Library book.
The cover fits the book nicely.
Be Frank With Me
; Johnson, Julia Claiborne
Light and fun. Some strange characters--a reclusive author, her precocious ten year old son, a "friend" who comes and goes erratically, a sensible aide (the somewhat [maybe] reliable narrator)--and some probable and improbable situations. All believable because it is set in LaLa Land. Library book.
Great cover: design by Kaitlyn Vincent; illustration by
Olia Fedorovsky
There Once Lived a Mother Who Loved Her Children, Until They Moved Back In: Three Novellas About Family
; Petrushevskaya,Ludmilla; Anna Summers (Introduction and Translation)
The subtitle pretty much says it all--except these are families in the Soviet Union and their stories are dark. My copy.
Cover illustration:
Sam Wolfe Connelly
Dancer
; McCann, Colum
Dramatic fictional account of the life and career of Rudolf Nureyev. Told from several points of view: family, friends, colleagues, employees, and others. A little disjointed and it jumps around a bit, but it works.
Library book.
Some nonfiction:
Food: A Love Story
; Gaffigan, Jim. An irreverent look at food, particularly American food, by a stand up comedian. Some funny stuff that must be read in small doses. Library book from the "Blind Date with a Book" display, which means it came in a plain brown wrapper.
Last time I did this I also got a good book
Paradise Now: The Story of American Utopianism
; Jennings, Chris
Excellent study of five major Utopian communities in the USA. Library book.
Also read:
The High Mountains of Portuga
l;
Martel, Yann
Three stories, linked by locale and a sort of legend. The first is somewhat interesting, the second has a strange theology, the third refers back to the other two. I suppose that I am meant to ponder the meaning of all this, but I'd rather forget it. Library book.
The Edge of Lost
; McMorris, Kristina
Irish immigrant to New York passes himself off as an Italian. Gets in trouble. Ends up in Alcatraz...An ok read. Library book.
What's Important Is Feeling: Stories
; Wilson, Adam
I didn't like these at all. Too much trying hard not to fit in, trying to make something out of nothing. My copy.
Online:
400 Years On: Bumping Into the Bard at Every Turn
Some things to look forward to as we observe the 400 anniversary of the bard's death.
Books cooked – literally – in punning recipes based on writers' names
Strange idea...and it would show up when I'm reading other things about Pessoa.
The Most Precious Cargo for Lighthouses Across America was a Traveling Library
A little library history.
The Open Refrigerator
An essay on the editor's place in publishing by Gerald Howard, vice president and executive editor of Doubleday.
What to Wear in the Arctic: Striking Photos of Traditional Footwear
Beautiful ways to warm your feet.
Video:
Lacombe Lucien
[videorecording] / film de Louis Malle; scénario, Louis Malle, Patrick Modiano ; une co-production NEF-UPF, Vides-Film, Hallelujah-Film. Criterion Collection, [2006]
Really liked this. Library copy.