Overall a really good reading month. Read thirteen plus books in spite of blogging more than I usually blog. I did have two books that I started and didn't (and won't) finish. They are listed at the bottom of this post.
The Supernatural Enhancements
by Edgar Cantero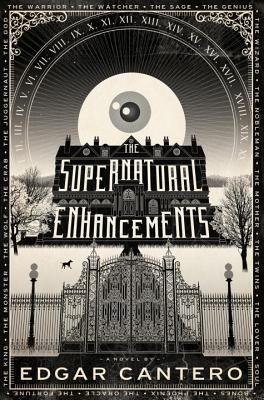 Library book. When A. Inherits a mansion and all its contents from a second cousin he didn't know existed, he is also heir to a mystery. It is just a "bourgeois game" his cousin and companions have been playing? Or is it something more? I loved this one--it's full of puzzles, codes, a maze, and secrets rooms. It's as lush and as mysteriously complicated as the fantastic cover of the book.
5 stars
Florence Gordon
by Brian Morton
Library book. She's seventy-five, she's cantankerous, she's intellectual, she's a feminist. Maybe she's your grandmother, your ex, your mother, your friend. Maybe you are sorry you know her, maybe you are sad that you've never met her. But you are glad that Brian Morton has introduced you to Florence and her family. 5 stars
Dear Committee Members
by Julie Schumacher
Library book. Witty satire on academic life. A tad bit longer than it needs to be (and it's only 180 pages), but an enjoyable read. 3 1/2 stars
The Murder of Harriet Krohn
(Inspector Konrad Sejer #7) by Karin Fossum,
James Anderson (
Library book. OK, but not as good as some of the other Sejer novels. 3 stars
Measuring the World
; by Daniel Kehlmann, Carol Brown Janeway (Translator) Library book. novel based on the lives of explorer Alexander von Humboldt and mathematician Carl Friedrich Gauss. 4 stars
Grand Hotel
; by Vicki Baum,
Library book. Also watched DVD of the 1932 film
Grand Hotel
; directed by Edmund Goulding.
The Good Life Elsewhere
; by Vladimir Lorchenkov,
Ross Ufberg
Personal copy. Apparently Moldavian peasants will do anything to get to Italy. Pigs may not fly in this romp, but tractors do.
Her
; by Harriet Lane
Electronic (Kindle) advance review copy from publisher. Why does the sophisticated Nina goes out of her way to make friends with the rather ordinary housewife Emma? It seems Nina knew Emma in the past, but Emma doesn't remember. Nina's actions become strange and creepy to the reader but Emma remains clueless as their friendship progresses.
Christmas Stories from the French and Spanish
by Antoinette Ogden From Project Gutenberg. Stories from the 19th Century by several French and Spanish writers. Many are religious, some are rather grim. 4 stars.
The Paying Guests
by Sarah Waters I received a free advance review copy of this book from the publisher. Maddeningly slow paced novel (brief review cross-posted on Goodreads and LibraryThing). Five hundred and sixty pages, 200 of which were mind-numbingly boring. 3 stars.
On Immunity: An Inoculation
by Eula Biss
Library book. I think this is one of those books that will not be read by the the people that ought to read it. I doubt that it will change anyone's mind on the question of whether or not to have their children inoculated. 3 stars.
Tempest-Tossed: The Spirit of Isabella Beecher Hooker
by Susan Campbell
Library book. Isabella was active in both the abolitionist and the feminist movements. Less well known than her older half sister, Harriet Beecher Stowe, Isabella deserves to have her story told. This is a good start, but I wish the author hadn't inserted herself into the story. 4 stars
The Phantom of Fifth Avenue: The Mysterious Life and Scandalous Death of Heiress Huguette Clark
; by Meryl Gordon
Library book. I first heard about the elusive Huguette Clark when I lived in Santa Barbara in the 1970s. There it sat, the Clark Estate, unoccupied, unused, but well maintained and situated on a fabulous piece of property. So I enjoyed this account of the Clark family and Huguette. 4 stars
Adultery by Paulo Coelho. I just couldn't take the mushy theology. Library book DNF
Lock In by John Scalzi. Lots of people liked this (came in 2nd in Goodreads Choice Awards SF category). I just couldn't get into it. Gave it a good go, quit about half-way through. Library book DNF