Had some fun online whilst snowed in. Actually it's not the snow that's keeping me in --the roads are clear-- it's the bitter cold that says "you pay for heating, stay in and enjoy it."
I started off my "short story" challenge with a short essay, not a short story.
Card: 9 of Clubs
Story:
The Other Chile (Cecilia and Patricia)
by Angie Cruz
A brief look at the lives of hotel maids in Santiago Chile. They discuss working conditions, politics, and love. Very informative.
Angie Cruz Is founder and editor of
Aster(ix), a Journal of Literature, Art, Criticism.
Lots of good reading there.

Art online...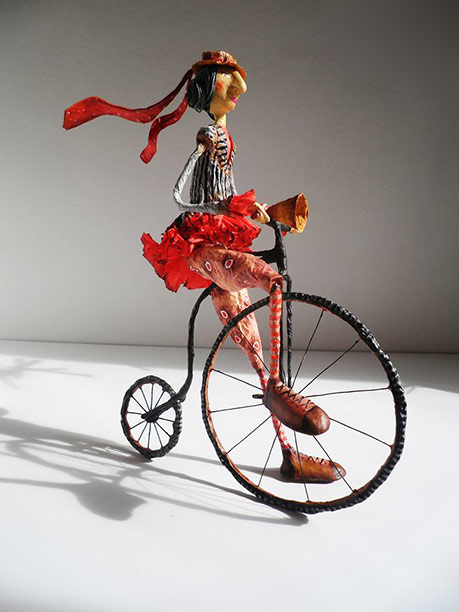 Girl riding penny farthing bike
by Natalia Mendoza
Venice Clay Artists : Ceramics and Pottery Arts and Resources
is one of my favorite online art and artisan sites. Their display
Gusto mache mucho papier figures
presents delightful, whimsical papier mache figures.
"Animated puppets, dolls, figurines, lidded boxes, lightweight props for theatre and stage productions and sculptures are some of the applications still using papier mache in the arts. The focus here is on five current papier mache artists: Natalia Mendoza from Barcelona, Brazilian artists Fábio de Souza Pinheiro and Ubiratã Trindade, Colombian Mauricio Perez and Chicagoan Tato Correa."
I love these photos (from
Maxim on Instagram
) of old St Petersburg apartments. There are hundreds of pictures. I can't read Russian but I put this one through Google translation and here is what I got:
"T

his kindergarten in the former apartment on the Fontanka embankment, 24. Of course, before the revolution it was not just an apartment, but one of the richest apartments in the city, occupying the whole floor.

Now one half of it is still residential, and in the second one there is a kindergarten for many years.

By the way, if you want to spoil the historical interior, paint the walls in a pastel green and lay a booming laminate."
from my shelves...
Phantoms on the Bookshelves by Jacques Bonnet; translated from the French by Siân Reynolds
This was a delightful surprise Christmas gift. I wasn't on my wish list, but only because I hadn't heard about it. A charming book about a private book collection.
The Brahmadells by Jóanes Nielsen; translated from the Faroese by Kerri A. Pierce
A kind of disjointed, quirky multi-generational novel concerning members of a Faroese family. At times I lost track of who was who and where they were in time. I was fun sorting it all out.
Another winner from my Open Letter Books subscription.