This month I'm publishing my
Reads
posts weekly because...
The weather has been cold and snowy so I've been reading a lot this week. I finished one of my Christmas gifts, read some classics, read a YA, read a bunch of short stories (online and in my Christmas gift books), read some essays online, and watched a lecture.
The gift I finished:
Estuary: Out from London to the Sea
by Rachel Lichtenstein
An exploration of the Thames Estuary told in segments covering a period of about five years. Rachel Lichtenstein explores by boat and by land, meeting a lot of interesting people and hearing great stories along the way. She goes to the old defensive towers in the sea, she visits beaches and mudflats, she goes along with cockle gathers, she visits the new London Gateway Port, she explores nature preserves, she spends some terrifying bad weather nights on boats, and she listens and retells tales of the region. There are a lot of photos (black and white) and nice end maps. This is one of those books that causes extensive Googling. An excellent adventure by a hardy soul.
Heart of Darkness
, by Joseph Conrad
It's about time I read this. I decided to read it now because Conrad is quoted in the above work (he lived in Kent near the Thames) and the narrator in the novel tells his story of the Congo to his friends while on a boat moored in the Thames.
I read this on Project Gutenberg.
I have been reading some Pushkin... (for a full list of the contents of the volumes I've been working with see my post
Pushkin - Contents notes
)
The works of Alexander Pushkin : lyrics, narrative poems, folk tales, plays, prose
/ selected and edited, with an introduction, by Avrahm Yarmolinsky. (Random house, 1936)
This is not the complete short works, but there is plenty to read. This is a library book so I probably won't read the whole thing.
So far I've read:
The Tales of Belkin
translated by T. Keane, revised by Yarmolinsky (pp 467-555) Five stories of rural life:
The Shot
,
The Snowstorm
,
The Undertaker
,
The Postmaster
,
Mistress into Maid
.
The Queen of Spades
(pp556-589). Also translated by Keane.
Mozart and Salieri
(play, pp 428-437) Translated by A.F.B. Clark
The YA novel..
Burned (Burned #1)
by Ellen Hopkins
A coming of age story of a seventeen year old Mormon girl who has an unhappy family life. When she rebels against the church and her abusive father she is sent away to a ranch near Ely, Nevada to live with an aunt. Her story is told in verse format, which I found appealing. I may read more by Hopkins.
Read free online at Simon & Schusters'
Riveted
website
online
Secret Coders: Lost & Found
by Gene Luen Yang and Mike Holmes
A short comic in which a group of kids figure out how to do an aerial grid search for a lost dog. A simple lesson in logic and coding. A very light one for my first read for the
Deal Me In Challenge.
10 Outstanding Short Stories To Read in 2017
Mumbai-based writer-filmmaker Pravesh Bhardwaj says "I've been doing this for some time now — seeking out short stories from free online resources, and sharing them on Twitter (#fiction #longreads). It's now a habit: Every night after dinner, before I start writing (screenplays), I look around for a story and read it." She shares a list of ten of her favorites on Longreads.
Andrew Joyce on Sand Paintings
While hitchhiking when he was a young man, the author had a chance encounter with a sand painter. I loved this memoir/story which he shared as a guest poster on A Bookish Affair blog. It includes a few examples of sand paintings. He is the author of Yellow Hair, a fact-based work of fiction about the Sioux Nation.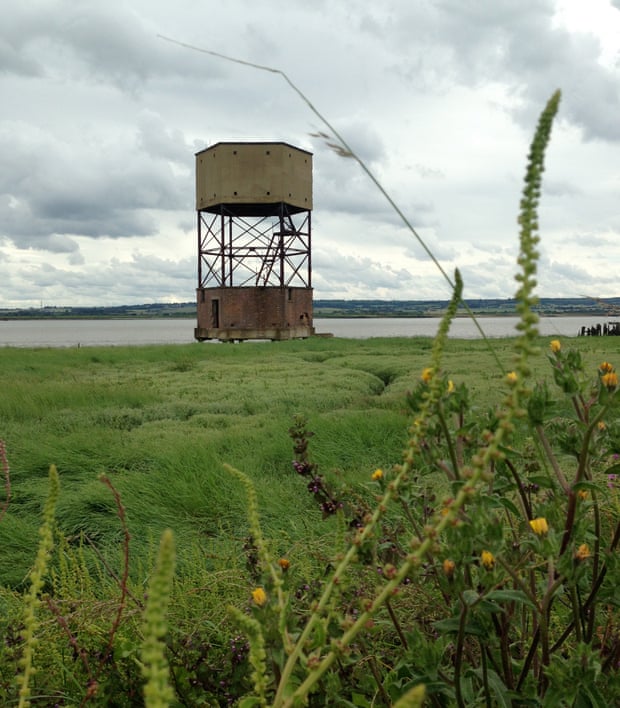 The delta on London's doorstep: a walk around the Thames estuary
by Joanne O'Connor
This write-up from The Guardian travel section is nicely illustrated with photographs and has links to some of the sights and establishments along the way. It makes a nice companion piece to
Estuary: Out from London to the Sea
by Rachel Lichtenstein which I have been reading.
"Hardcore Heritage": RAAAF Reveals Its Latest Experiment in Historical Preservation
One approach to dealing with abandoned architectural sites. "The multidisciplinary Amsterdam-based studio Rietveld-Architecture-Art-Affordances (RAAAF)... proposes to make history tangible by altering...decaying structures in a way that makes their stories plainly visible."
The Destruction of Cultural Heritage: Project Description
by Pamela Karimi and Nasser Rabbat
The project is a
series of essays (available free online)
which "...illuminate the larger contexts—historical, political, and ideological—within which the destruction of Middle Eastern monuments has taken place and acquired meaning over the last two centuries." I will be reading these over the next few weeks.
The Demise and Afterlife of Artifacts
by Pamela Karimi and Nasser Rabbat
This is the introductory essay of the above project. An overview of the problem, previews of the essays, plenty of illustrations, footnotes, & links.
Architecture for the Search for Knowledge
Video of Iñaki Ábalos' Walter Gropius Lecture at Harvard GSD Dives Into the History and Evolution of the Monastery. There is an accompanying text outlining the important point of the lcture. "Throughout the event, Ábalos delved into various mixed-use typologies, each of which is in some way related to the basic typology of the medieval monastery."Quote from beginning of lecture "It's a little bit boring but I like it." I was not boring to me.